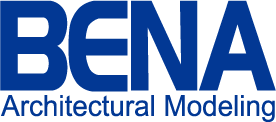 Craftsmanship
BENA is trusted designer for a client with artistic presentation and accurate expression supported by experienced of craftsmanship along with skilled manner of production management.
Organized delivery
BENA is trusted by clients with excellent performance in delivery based on well-coordinated team work in the industry.
Technology & equipment
BENA is a pioneer of advanced architectural modeling with up-dated technology and equipment to lead innovation and advancement in the industry.
Company profile
■ Company Name: BENA Co.,Ltd.
■ Establishment: 17th June 1970
■ Capital Stock: 45 million yen
■ Representative Director: Mr. Takaaki Watanabe
■ Registered address: 2-5-15, Narimasu, Itabashi-ku, Tokyo, Japan
■ Postal code: 175-0094
■ URL Global: http://bena-gloabl.com
■ URL Japan: http://bena.jp
■ Registered clients: 280 companies
Contact:
■ Direct: +81-(0)80 ? 4050 0845 (in English)
■ Landline +81 (0)3- 3975-1511 (in Japanese)
FAQ
Please find your question from below: If you don't find, send E-mail to us.
01: Is it free to estimate a price of modeling?
Answer: Yes. It is free of charge. Please inquire freely.
02: How long does it take to manufacture a model?
Answer: It takes about 30 to 60 days to manufacture a complete model. If it is a study model, it takes about 14 to 21 days.
03: Is it possible to check the progress of modeling?
Answer: Yes. We request client to have time to check twice; for the intermediate exam to confirm style of model and the final exam to check coloring of model. Those exams are also checked by photos in case the client finds difficulty to come down to BENA Co., Ltd.
04: What kind of information will be needed for estimation of cost?
Answer: Please provide us with information including arrangement plan, each floor's plan, elevation plan, and cross section drawing. Please also tell us about scale size. If possible, you can also show us detail drawing, exterior drawing, planting plan, and sketch or CG.
05: Does price of modeling and duration of manufacturing change along with material and scale of model?
Answer: Yes. Our architecture models are mainly made of acrylic and paper. Price will change depending on the material. But the time of delivery will not be affected.
06: Is it provided after service for maintenance?
Answer: Yes. BENA employee comes to check conditions of models, but cost of parts and travels for service will be charged.
Inquiry
Kindly place your inquiry freely on our service, job vacancy, vendor registration, etc. We will reply to you soon.
We also accept the appearance of a model. In the case of a quote, it takes time to make an estimate. If you contact us by email or phone, we will contact you regardless of the content.